School's Out for the Summer!
The last day of school for DeKalb County is Friday, May 24th! As the school year comes to an end and summer break begins, Coordinated School Health would like to remind you that while you're outside this summer to be sun and skin safe! While you're having fun, please remember that the sun is HOT and your skin will be too if you don't take the proper precautions to protect yourself from sunburns! The article below shows us how to safely enjoy the summer sun!
Here's how to help kids enjoy fun in the sun safely.
Why Is Sun Protection Important?
We all need some sun exposure. When skin is exposed to the sun, our bodies make vitamin D, which helps the body absorb calcium for stronger, healthier bones. It only takes a little time in the sun for most people to get the vitamin D they need (and most vitamin D needs should be met with a healthy diet and/or supplements).
Too much unprotected exposure to the sun's ultraviolet (UV) rays can cause skin damage, eye damage, immune system suppression, and skin cancer. Even people in their twenties can develop skin cancer.
How Do Sunburns Happen?
The sun radiates light to the earth, and part of that light consists of invisible UV rays. When these rays reach the skin, they cause tanning, burning, and other skin damage.
UVB rays are also dangerous, causing sunburns, cataracts (clouding of the eye lens), and effects on the immune system. They also contribute to skin cancer, and melanoma is thought to be associated with severe UVB sunburns before age 20.
UV rays react with a chemical called melanin that's found in skin. A sunburn develops when the amount of UV exposure is greater than what can be protected against by the skin's melanin. The risk of damage increases with the amount and intensity of exposure. A tan is itself a sign of skin damage and does not help protect the skin.
Who Needs Sun Protection?
Every child needs sun protection. The lighter someone's natural skin color, the less melanin it has to absorb UV rays and protect itself. The darker a person's natural skin color, the more melanin it has. But both dark- and light-skinned kids need protection from UV rays because any tanning or burning causes skin damage.
Here are the key ways to protect kids' skin:
Use Sunscreen and try to stay in the shade when the sun is at its strongest (usually from 10 a.m. to 4 p.m. in the northern hemisphere). If kids are in the sun during this time, apply and reapply sunscreen — even if they're just playing in the backyard. Most sun damage happens from exposure during day-to-day activities, not from being at the beach. Remember that even on cloudy, cool, or overcast days, UV rays reach the earth. This "invisible sun" can cause unexpected sunburn and skin damage.
Cover Up
One of the best ways to protect skin is to cover up. To make sure clothes offer enough protection, put your hand inside garments to make sure you can't see it through them.
Wear Sunglasses
Sun exposure damages the eyes as well as the skin. Even 1 day in the sun can lead to a burned cornea (the outer clear membrane layer of the eye). Sun exposure over time can cause cataracts (clouding of the eye lens, which leads to blurred vision) later in life. The best way to protect eyes is to wear sunglasses that provide 100% UV protection.
Double-Check Medicines
Some medicines make skin more sensitive to UV rays. Ask your doctor or pharmacist if any prescription (especially antibiotics and acne medicines) and over-the-counter (OTC) medicines your kids take can increase sun sensitivity. If so, take extra sun precautions. The best protection is simply covering up or staying indoors; even sunscreen can't always protect skin from sun sensitivity.
To treat a sunburn:
Have your child take a cool (not cold) bath, or gently apply cool, wet compresses to the skin to help ease pain and heat.
Apply pure aloe vera gel (available in most drugstores) to any sunburned areas.
Give your child an anti-inflammatory medicine like ibuprofen or use acetaminophen to ease the pain and itching. (Do not give aspirin to children or teens.) Over-the-counter diphenhydramine also may help reduce itching and swelling.
Apply moisturizing cream to rehydrate the skin and treat itching. For the more seriously sunburned areas in kids over 2 years old, apply a thin layer of 1% hydrocortisone cream to help with pain. (Do not use petroleum-based products, because they prevent excess heat and sweat from escaping. Also, avoid first-aid products that contain benzocaine, which may cause skin irritation or allergy.)
If the sunburn is severe and blisters develop, call your doctor. Tell your child not to scratch, pop, or squeeze the blisters, which can get infected and cause scarring.
Keep your child out of the sun until the sunburn is healed. Any further sun exposure will only make the burn worse and increase pain.
2nd Annual Turkey Trot Collects Generous Donations
November 13, 2017
Elise Driver receives check from Gloria Pinegar of DeKalb Farm Bureau
Rhonda Caplinger and staff of Liberty State Bank with Elise Driver and Cindy Childers
2nd Annual Turkey Trot Winners
Food collected during Turkey Trot
Coordinated School Health's 2nd Annual Turkey Trot was this past Saturday, November 11, 2017. The event was held to benefit CSH's Back Pack Program. Participants were asked to bring non-perishable food items for a donation to The Back Pack Program. "There were generous donations of food and funds made to our program at the Turkey Trot thanks to individuals, businesses, and civic groups", said Elise Driver, Coordinated School Health. "All of the food donated today will be going into our Christmas boxes that we will be delivering to every family on our Back Pack list this year."
"We had 75 participants this year. That ended up being a compiled 230 plus miles that were walked/ran in an hour and a half! That is amazing!" "We would like to thank everyone that came out to the Turkey Trot this year, whether you walked, worked, or donated, we are so grateful for this show of support for The Back Pack Program. This program would not be possible if it were not for our wonderful community."
Winners in the female age categories: 5 & under-Trinity Parker(4 laps), 6-12-Alex Moreno(22 laps), 13-19-Misti Lloyd(5 laps), 20-29-Marissa Garmer(11 laps), 30-39-Carrie Gottlied(15 laps), 40-49-Susan Vandyne(9 laps), 60-69-Gloria Pinegar(10 laps).
Winners in the male age categories: 5 & under-Caysen Hale(4 laps), 6-12-Aaron Gottlied(30 laps), 13-19-TJ Bratcher(7 laps), 20-29-Danny Pirtle Jr.(7 laps), 30-39-Andrew Harvey(3 laps), 40-49-Edward Gottlied(16 laps), 50-59-Bill Conger(11 laps), 60-69-Jerald Cripps(3 laps).
We are continuously seeking food/funding to maintain our program. If you are interested in donating, please contact Elise Driver at 615-215-2118 or Cindy Childers at 615-215-2161.
Backpack Program Aims to Keep Kids Fed Over Holidays
Somewhere in our community right now kids are going hungry.
For many, the toughest times are during the holidays when they are not at school for free meals. To make sure those children have nutritious meals through the holidays, the DeKalb County Coordinated School Health Program is delivering boxes of food to 84 families this week serving 203 students from pre kindergarten to the 12th grade. It's an extension of the Backpack Program in which those same students are provided food to take home once a week to get them through the weekends.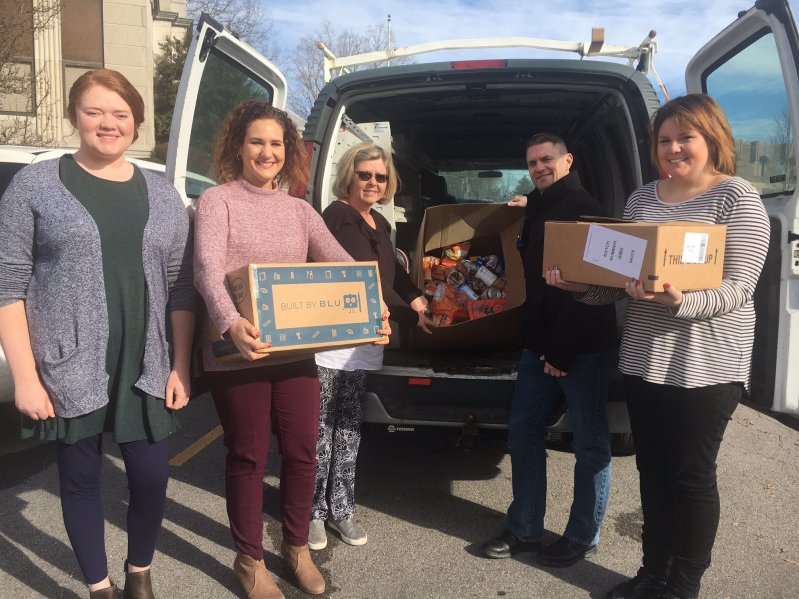 "Approximately 6% of our student population goes hungry on a regular basis, with meals provided at school being their main source of food. Every weekend the students we serve get a bag of food to take home from school, usually about eight to ten items but for the holidays we try to put more hearty things in the boxes (perishables including fruits and vegetables in addition to canned goods) where they can have a Christmas meal and we deliver it directly to their homes, " said Elise Driver, Director of the Coordinated School Health Program.
"We have been packing boxes this week to make the Christmas deliveries. This is the third year that we have delivered a box of food for every family on our backpack list. There are 84 boxes this year serving 203 students," said Driver.
Four teams fanned out in the community Monday and Tuesday to make the deliveries directly to the homes of families being served.
"This is my first year doing this but it has really been rewarding to see how everybody has reacted to getting it (food boxes). These people are really thankful for it and all of the hard work we put into it really shows and has paid off," said Martha Taylor, assistant to Driver.
"The amount of time and work that Elise and Martha have committed, not only to our schools but our community, is unbelievable and we appreciate everything they do for our students and all their hard work. I also appreciate our staff for going out and helping us deliver these meals. Anything that we can do to hopefully add a little cheer and help out families during the holidays is our desire and we want to wish everyone a Merry Christmas from the central office and the Board of Education," said Director of Schools Patrick Cripps.
The Backpack program is ongoing throughout the school year supported strictly by community donations and grant funding. If you would like to contribute a donation of cash or food to the program contact Elise Driver at 615-215-2118.
Project iGuardian Parent Presentation Coming to DeKalb County Complex Sept. 4
August 14, 2018 By:
DeKalb County Coordinated School Health and DeKalb County UT Extension are partnering with the U.S. Dept. of Homeland Security to present Project iGuardian.
Project iGuardian is focused on keeping children and teens safe from online predators through education and awareness. This project is an outreach effort to share information about the dangers of online environments, how to stay safe online, and how to report abuse and suspicious activity. Homeland Security Investigations has partnered with the National Center for Missing & Exploited Children's NetSmartz and the Internet Crimes Against Children (ICAC) Task Forces to develop Project iGuardian.
A Project iGuardian parent presentaion will be held on September 4, 2018 from 6:00pm-7:30pm at the DeKalb County Complex auditorium. This event is free of charge and open to all adults. U.S. Department of Homeland Security Investigations Special Agent, Jonathan A. Hendrix, will be arming parents with knowledge and resources to understand the dangers their children encounter exploring the digital world. This presentation was also previously presented as an in-service for all staff of DeKalb County Schools and a student version of the program will be presented to all students in 6th-9th grades on August 21, 2018.
Homeland Security Investigations encourages the public to report suspected child predators and any suspicious activity through its toll-free Tip Line at 1-866-DHS-2-ICE. Visit https://www.ice.gov/topics/iGuardians for more information.
Turkey Trot Walkathon to Benefit School Backpack Program
by: Dwayne Page & Elise Driver
Did you know that 6% of DeKalb County students regularly go hungry?
You can help feed these students through the DeKalb County Coordinated School Health Backpack Program by supporting and participating in the 2nd Annual Turkey Trot Walkathon to be held on Saturday, November 11 at Greenbrook Park.
Registration begins at 10 a.m. and all you need to bring to enter is a non-perishable food item for the Backpack Program.
"The Turkey Trot Walkathon hopes to encourage our community to get outside and enjoy some physical activity and fun while also supporting a great program. All ages are welcome. There are nine age categories and prizes will be given to a male and female in each age category that walks or runs the most laps around Greenbrook Park. We will have games, food, crafts, face painting, and a photo booth. Registration starts at 10:00 a.m. The Walkathon will begin at 11:00 a.m. and end at 12:30 p.m. with prizes to follow. There is no fee to participate. We ask that participants bring non perishable food items for a donation to the Backpack Program," said Elise Driver, Coordinator of the DeKalb County Coordinated School Health Program.
"DeKalb County Schools have approximately 6% of our student population that goes hungry on a regular basis with meals provided at schools being their main source of food. Coordinated School Health began sending bags of food home to children over nine years ago. We began with long weekends and holidays and now we feed them every week during the school year. Funding is not always consistent and we are continuously seeking donations of food and or money to maintain our program, to improve the nutritional value of the food products given to students, and to promote healthy eating habits," said Driver.
Your support will help feed these students.

Water Bottle Refill Stations at Northside Elementary
Northside Elementary Station
Water Bottle Refill Stations at Northside Elementary
Northside Elementary School has been the recipient of two water bottle refill stations. DeKalb Coordinated School Health purchased the stations, DeKalb School Nutrition will pay for the new filters each year, and the Healthier TN Community along with DeKalb Prevention Coalition, donated 800 reusable water bottles to every student and staff member at NES.
The water bottle refill stations have a filter and can fill 3 times faster than a regular water fountain. There is a sensor so the student will not have to touch anything on the station, just place the bottle and it fills and cuts off by itself. They also have a counter on them that records every time a 20oz water bottle is filled, so the school can see how many plastic bottles are being kept out of our landfills. The water bottle refill stations have already recorded over 3500 refills in just over 3 weeks since install.
"We hope that by putting in the water bottle refill stations that we can encourage students to drink more water instead of sodas and also be more eco-friendly. Due to all of these great partnerships, we will be able to make a difference in the health of our students and staff. We would also like to thank the principal, Mrs. Karen Knowles, for allowing us to implement this initiative at NES," said Elise Driver CSH Coordinator.
Pictured from left to right, Cindy Childers CSH Assistant, Amy Lattimore DeKalb School Nutrition Supervisor, Elise Driver CSH Coordinator, Lisa Cripps DeKalb Prevention Coalition Coordinator, and Norene Puckett-DeKalb Prevention Coalition Community Outreach Liaison.

The DeKalb Prevention Coalition (DPC) recently partnered with three local pharmacies to help get the message out about their initiatives. The coalition has purchased 24,000 pharmacy bags to be used by F.Z. Webb & Sons Pharmacy, Caldwell's Drug Store, and Johnny's Drugs that have information about the Count It, Lock It, Drop It initiative as well as binge drinking and information to help quit smoking.
DPC wants to remind the community to COUNT your pills once every two weeks. This will prevent theft and ensure that medications are taken properly. LOCK up your medications and store them in a place that others would not think to look. Contact the Coalition for Medicine Lock Box.
DROP off unused and expired medications for proper disposal at the Smithville Police Department's box located inside Smithville City Hall. It's quick and anonymous. DPC meets the last Tuesday of every month at Noon. Please see the facebook page for meeting locations and information about upcoming events at www.facebook.com/DeKalbPreventionCoalition.
Thousands of youth nationwide participated in a campaign to curb tobacco use, many events took place across the state on March 15. Students at DeKalb County High, DeKalb Middle, and DeKalb West schools recognized the Campaign for Tobacco Free Kids-Kick Butts Day on March 15, 2017. The event was sponsored by DeKalb Prevention Coalition, DeKalb County Health Department, Coordinated School Health, and St. Thomas Hospital.
The schools had informational booths pertaining to the consequences of tobacco, a tobacco free pledge, and games. There were many items for giveaways, including t-shirts donated by St. Thomas hospital and water bottles, frisbees, bracelets, etc., donated by The Health Department. Participants included the DeKalb County High Wellness classes, the DeKalb Middle School SADD (Students against Destructive Decisions) club, and DeKalb West Beta club. Student participation reached almost 1500 students.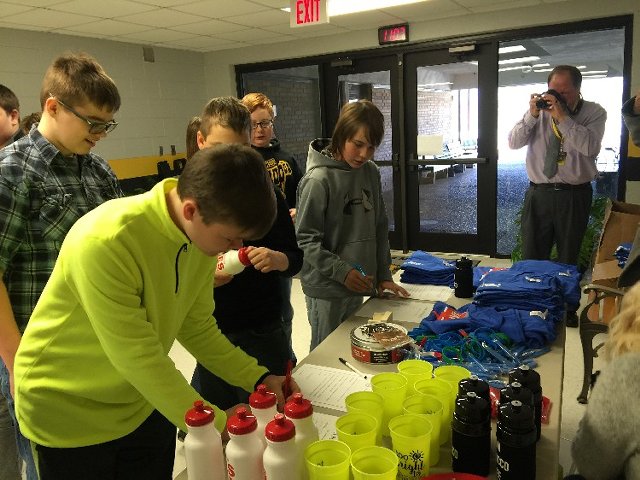 Family Health Night Huge Success
Family Health Nigh Huge Sucess
DeKalb County Coordinated School Health and the School Nutrition Department held their first Family Health Night on September 27, 2016. There were physical activity sessions, nutrition sessions, and various agency exhibits.
Elise Driver, Coordinated School Health, and Amy Lattimore, School Nutrition Supervisor, would like to extend their gratitude to the principal and the great staff of volunteers at Northside Elementary, the agencies, the students and their parents, who made our first Family Health Night a huge success! They hope that everyone who came to participate had a fun and informative time. They look forward to serving our students, their families, and the community with many more fun filled educational events in the future.